January 24th, 2010
Tripawds is a user-supported community. Thank you for your support!
I forgot to share about Couch Day!  Oh, it was a great holiday on 1/18  to get my couch back.  And I got it back in time for my first three-legged trip to the dog park, so it really came in hand for snoozing afterwards.  Here's a pic: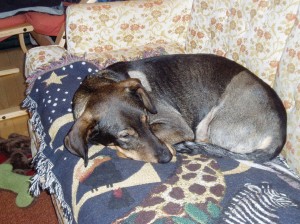 Now, I'm gonna try to include something educational in every post.  Today it will be walking three-legged through snow.  Not easy!  No wonder Mom and the vet said I wasn't allowed while I was still healing from surgery.  So here's a video of me walkin' through my back yard.  I had the added motivation of a trail of rabbit droppings to follow.  Mom wasn't too pleased about that.  Apparently rabbit droppings used to upset Yoda's tummy.  Hasn't done me any harm yet!
And now, for some comic relief, though once again, I'm not sure what is so funny.  Mom came home from work, and I was ready for my walk.  But all my toys were way over on the other side of the room.  So I grabbed her shoe.  After all, that served two functions.  One, I had something to carry on my walk, which I like, and two, it communicated to Mom that it was time to WALK.