January 19th, 2011
Tripawds is a user-supported community. Thank you for your support!
I had my Couch Day (1/18) and my one year Adoption Day(1/16), which got me two new stuffed toys to mangle!  You can kinda see them with me hanging out on – what else? – the couch in these pictures below.  There's the gray boiled rat toy (who looks more like hamster now without his tail) and an orange moose.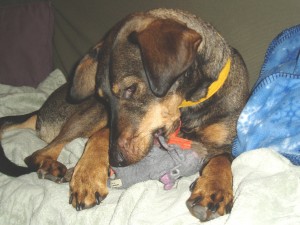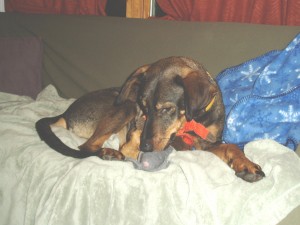 Now my adoption anniversary is pretty clear (even if it comes so late after the anniversary of Mom bringing me home – she actually thought she'd only be fostering me for a while there), but some of you may be asking, "What the heck is Couch Day?"  Well, when my big brother Yoda had his front leg amputation (I don't know if that makes a difference) the orthopedic surgeon said he could not be allowed on any furniture until his incision had fully healed.  Mom decided for her peace of mind, even though my vet(s) didn't tell her that, that I was banned from the couch until my incision healed!  She turned it to face the wall and put a chair on it and everything!
And there's something you should know about me.  I was not very tolerant of the shelter atmosphere.  They were a small organization with maybe 8 or so dogs crated.  Crates cannot contain ME!  I broke out of several.  Mom saw some of the bent metal bars (not sure what kind of metal, but I am AWESOME).  And at the shelter, there was a lobby area for potential adopters with a couch.  Shortly before they convinced Mom to foster me, they gave up on trying to crate me and I slept like the sweet dog I am on their couch.
When Mom brought me home though, there was some concern my crate-wrecking equaled separation anxiety.  So, Mom did the recommended stuff and tried to leave for very short periods that gradually increased longer and longer.  She also tried to gate me into the kitchen (so the whole couch thing wouldn't be an issue).  But no, I would not be confined.  I threw one tantrum, chewing on blinds in the kitchen and then figured out how the gate opens (still had my fourth leg then, so I could get up to nose the lever up and push.  I threw some cushions on the ground to make my displeasure clear too, but I didn't chew anything up.  I had my couch, I was cool again.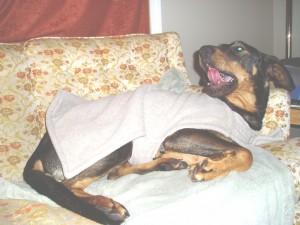 But then, after going through major surgery no less, as I noted before, she took my couch away!  (Or turned it around, same diff).  You can imagine how I felt.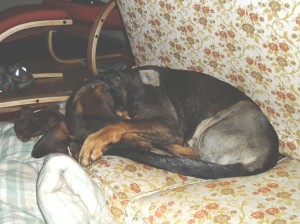 Couch cushions on the floor are not the same.
So what did I do?  Well, unbeknownst to Mom, I channeled my frustration into licking around my cone collar to my incision.  Joke was on me though, because it turned out that made my incision take longer to heal, which not only meant waiting longer for the couch, but I had to keep the cone on longer  too(well, a longer one I couldn't lick around that is).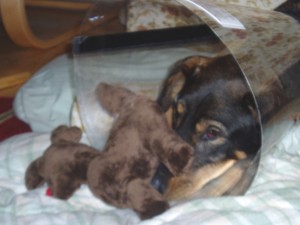 I had one more trick up my sleeve though and, in retrospect, Mom wishes she had taken a picture of my triumph.  Yes, she put a chair on the couch as it faced the wall, just in case, but it didn't cover the whole couch.  Nearly a full cushion wasn't covered.  And on that side of the couch stood an end table.  Granted though that that end table was covered with a stereo, telephone, rolodex, etc.  Still, I found my footholds somehow and climbed over the end table and curled myself next to the chair on the couch.  So it had no cushions on it – big deal.  I was where I belonged.  Then Mom came home from her errand and neither of us were quite sure how I was going to get out of where I belonged.  But somehow I did.
And eventually….. well, after a dumb histiocytoma on my shoulder had to be removed, meaning another incision needed to heal… still EVENTUALLY Mom turned the couch back around and put the cushions back on and THAT, my friends, was COUCH DAY!
And I have been appreciating my couch ever since…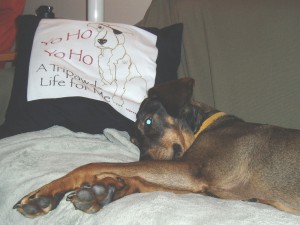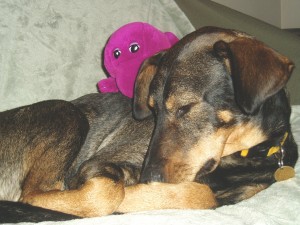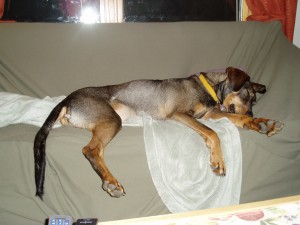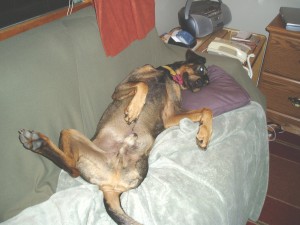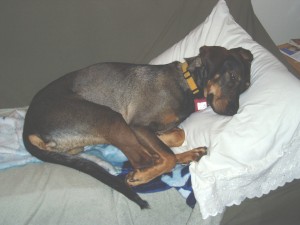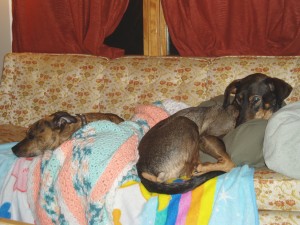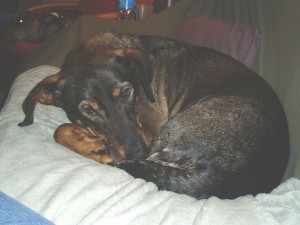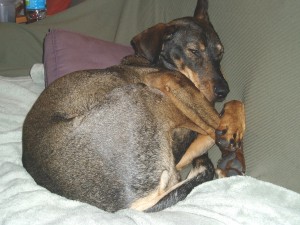 Ahhh, love your couches all-pawds.  Couch Day can be celebrated every day.