November 18th, 2010
Tripawds is a user-supported community. Thank you for your support!
No, it's not quite a year since my ampuversary (next month!) but Mom brought me home one year ago this weekend.  
We remember my homecoming all too well : )  I was afraid of car rides in those days.  Mom already knew I was afraid of crates.  I was breaking out of those in the shelter and the shelter people told her that I would ALWAYS have accidents in the car when they transported me (in a crate) for my vet appointments.  She hoped maybe I'd do better in the car without a crate.  Nope!  I just didn't like cars, period.  So as she was driving on the highway, through freshly falling snow, I freaked, climbed over the console, into the front seat (with a bum knee at the time, mind you) fogged up the windows with my panting, slipped all around – but somehow we made it home.  HOME!!!  FUREVER AND EVER : )  (Even though she claimed she was just fostering me).  Oh, and we have a barrier in the car now to keep me from backseat driving.  I'm over my car fear now though – which opened up a whole new world of dog parks and pawties : D
This is the beginning of so many holidays for us – home anniversary, Thanksgiving, then ampuversary, then Christmas, then New Year's, then Couch Day (when my incision finally healed and I was allowed to go on the couch again),  and my official adoption anniversary… I think that's it.  Yeah, Mom has a lot of presents to buy me, heeheeheeheehee…  I'll be sure to blog about those as they come in.
In honor of 1 year in my furever home, Mom made a compilation video of my highlights.  If you've followed my blog all along, it might not be so exciting – you've seen most of the clips.  Here it is:
Speaking of celebrations, I posted a video just the other day about going to Nova's 2 Year Ampuversary Pawty!  Check it out if you missed it.   
It was great to meet Rocky the Black Lab, Boo the Greyhound, Emmy (Nova's sister) the Great Dane, and (drum roll…) Nova the Great Dane!!!  And all their people.
It was good to have another guy there and Rocky was quite the ladie's dog.  Here he is playing it cool with the Queen.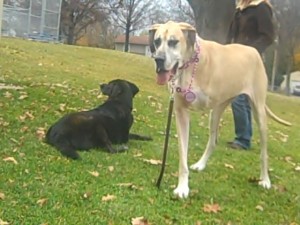 Boo taught me that barking at squirrels can sometimes make them fall out.  She said I'd need to keep practicing though.  Didn't work for me at the park.  Is it just Mom, or does she look a little guilty in this picture to you all too?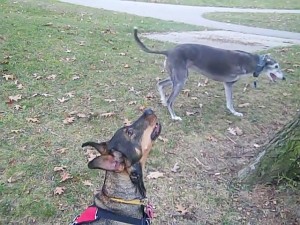 Here's another of Boo – innocent this time: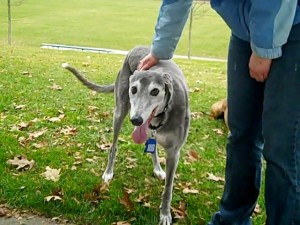 Oh shoot, we don't have any good stills of Emmy, but you can definitely see her in the video from my last blog.  Here's another one of the Queen though!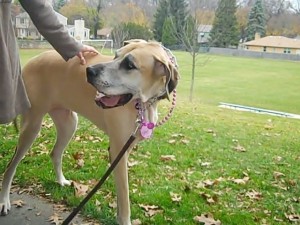 Oh and then there was the part of the party when I spotted prey across the street from the park and took off towards one of the openings in the fence.  Whoops.  Mom kind of freaked out, and our human housemate, who came along with my buddy and dog housemate, did her Xena Warrior Princess impression, which confused me long enough to lose sight of my prey, so I came back before leaving the park… but Mom is trying to forget that particular moment of the party, so no pics or video of that : )
So those are the highlights of both my 1st year and Nova's pawty!  (As I recall at least).  Oh yeah, and then there was the ride home.  Didn't seem as long as the ride there.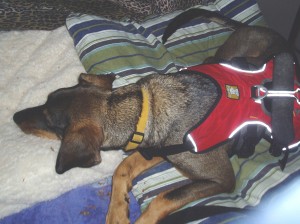 My bud, Biggie, agrees: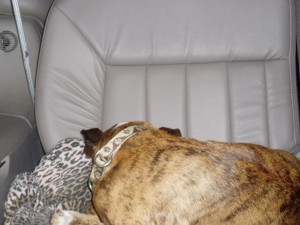 Til next time…