January 9th, 2010
Tripawds is a user-supported community. Thank you for your support!
Well, the cone of shame endures.  Mom is pretty sure that my new hole (from takin' out the histi-  histioss – sigh – the little tumor that wasn't nothin'!) and its stitches are out of my reach, but she doesn't want to take any chances.  Plus she's not sure my amputation incision is quite finished either.  But if I have to wear the cone til my new stitches come out – there's more than a week left!  Ughhhhhh!!!  Mom is trying to give me more breaks from the cone and then I lick everywhere that she'll let me!  It feels sooooo gooooood.
But at least I have Rudy!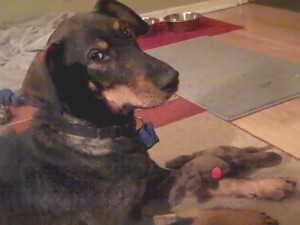 She's my reindeer.  I got her for Christmas.  And guess what?  She's a bipawd!  Or a Bihoofd, I guess.  She is my furry, squishy reindeer, descended from the great Rudolph himself. 
I take good care of her.  I walk her frequently.  I can even pick her up with my cone on.  Mom thinks that's funny for some reason and wanted to share it in a video, but she can never get it turned on fast enough to get me picking her up.  Still, she made a movie about me and Rudy going for walks together.  It's alot like my last movie, except now I have a co-star!