June 4th, 2011
Tripawds is a user-supported community. Thank you for your support!
Hey all,
Mom's doing her best to keep me busy.  We're still visiting my friends at the nursing home nearby.  Met some new friends there last visit too – mega-dog people!  That was cool.  Mom is always very cautious about not letting me approach people who aren't waving us over.  I think I can convert people, if she'd just give me a chance.  Better safe than sorry, I suppose.  OH!!!  And guess what!!!  They have birds in a big glass box at the nursing home.  I didn't notice them until a couple visits ago.  I WISH Mom would let me sit and watch them, but she says they are for the residents to enjoy, not me, and I have a job to do and… she knows I'd never want to leave.  You never know, one of those birds might find a way out.  Or I might find away in muwhahaha!
Mom wishes she had pictures of me at the nursing home, hanging with my friends, but she doesn't want to make the residents uncomfortable.  Like I said – she's super-cautious.  Maybe some day down the road after we've been visiting longer.
We do sort of have pictures though from the two events she took me to recently.  The first was a Bark for Life walk in Oregon, WI.  But she didn't have any human pals available to come along, so she couldn't get any good pictures at the event, but here's one she took of us after: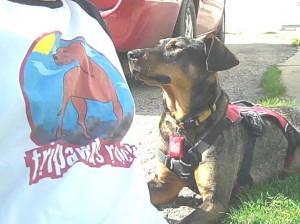 Mom wore her Tripawds Rocks!, Team Tripawds jersey, inspired by Trouble 🙂
And then there was the first annual Dogs on the Square, which was a fundraiser for Capitol K-9s, which is a non-profit for the Police K-9 Units.  It was really hot (windy too).  I loved all the attention from strangers, but I did kind of worry Mom with how much I wanted to lay down.  There was a lot to watch, that's all!  Still she's gonna make me go to the vet, whatever.  I get a lot of attention there too 🙂   Here's a picture of me soaking in the sun an scenery.  Oh and there's the mounted patrol in the background of one.  I didn't even realize there were horses right there.  Huh.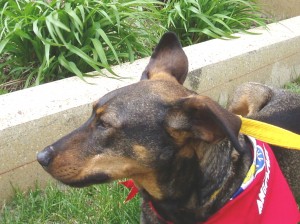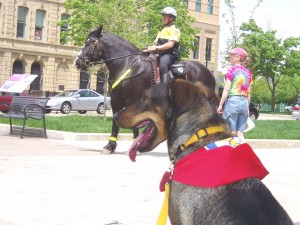 And here's one more picture for good measure – me sunbathing in the backyard today: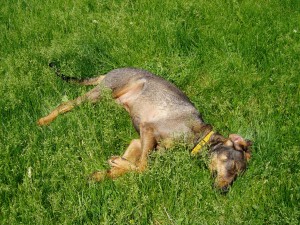 Wow it's hot!
And, by the way, we're hoping for a midwest tripawd pawty (or two) this year.  Mom put up a post about it in the forums: http://tripawds.com/forums/tripawd-parties/midwest-2011-pawty-possibilities/#p58411
Stay cool!
Gerry