August 1st, 2011
Tripawds is a user-supported community. Thank you for your support!
Mom, I and our housemates (human and dog) went up north this past weekend to help a friend of a friend and his mom clean up some of the debris from bad storms that hit earlier this year – and to enjoy ourselves.
My roommate Biggie and I, being too young and cute to work, did mostly the latter.  Mom made a video, as usual.  Except for the song being a little too sad-sounding for a super fun vacation, it fits pretty well.  Some bits of the video may require some explanation.  First, Biggie is a mama's boy, that's why he has his face pressed up in the crack between the driver's seat and the car door – his mom is driving – on our car ride up there.  The blue doggie preserver is actually Biggie's, but he shared, so you'll see both of us wear it.  I only swam briefly when we first arrived and Mom wasn't ready to film it and then (as you'll see in the video) briefly again on our last day there.  Biggie's mom shadowed me way too closely as I swam.  I didn't need help!  But I know she only did it because Mom was worried and couldn't be with me and video me both at the same time.  Oh, there's also a point at which I find and eat some tasty ants.  Ummm… I don't think anything else requires explanation.  I liked the lake a lot, but I'm not sure Mom is outdoorsy enough to take me again.  The tics freaked her out and also she, I and Biggie all got some kind of rash or hives from somethin'.  Mine and Biggie's seems to be fading, but hers is just getting started.
But the important thing is:  I swam!!! (Mom's never seen me swim before, if you didn't already guess).
And here's some pictures of me enjoying the sunshine and scenery: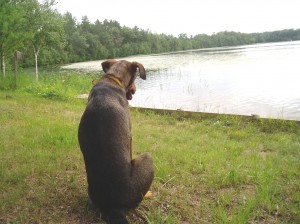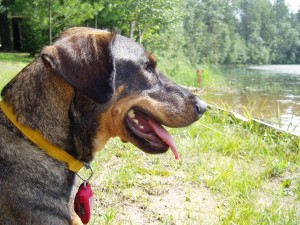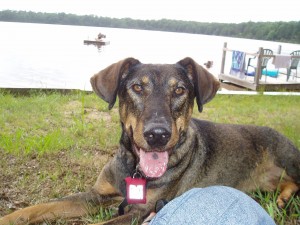 Hoppy summer everyone!