June 22nd, 2010
Tripawds is a user-supported community. Thank you for your support!
Alright!  I just got the approval from Mom and we're going to pledge to donate $10 to Tripawds for each tripawd that attends my next Tripawd Pawty in Madison.
…Yeah we can't really guarantee that that will amount to much, but Mom might be surprised.  Maybe we'll count legs instead or have more pawties and add those up too.  In any case, we hope to get everybody thinking about what they can give.  Tripawds is so so important for keeping our pawrents sane.  Some of them start off a little funny to begin with ya know, and if you add the stress of amputations and cancer… huh?  What?  Nooooo Mom I'm not talking about yoooooooooou… *ahem* as I was saying –
Tripawds.com is a life saver!  The support Spirit Jerry's crew gives has saved dogs' lives by raising awareness for many who might otherwise be persuaded that a cancer diagnosis could be the end or that a three-legged dog can't be just as happy as a four-legged dog.  They helped my mom to take a big ol' two-legged leap of faith once for Yoda and again for me!  And it was totally worth it.  So we are grateful and Mom knows we gotta take a leap for Tripawds in return.
Think about what you can give.  If you don't know how to decide on a number of dollars – like us – feel free to join us in our pledge.  We'll let you know the total number of attendees when we post the pictures and videos from it : D  Or come to my pawty and we'll donate $10 FOR you!!!
Meanwhile, I'm just waiting for my next pawty while it rains and rains and rains here…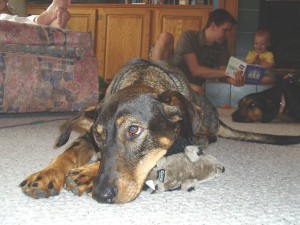 Like my new hedgehog?  I think he's my first four-legged toy – if you don't count the toys I steal from my roommate.