December 31st, 2011
Tripawds is a user-supported community. Thank you for your support!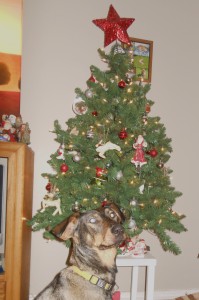 Happy Howlidays!
I hope Santa was as good to all of you as he was to me.  I got the exact toy I showed Mom in the pet store.  It was wrapped in plastic, but I could tell it was full of squeaky squirrels!  Six of them in a stuffed tree trunk.  Best toy ever!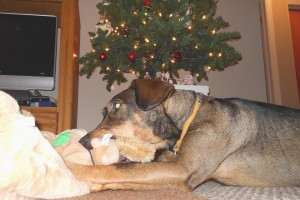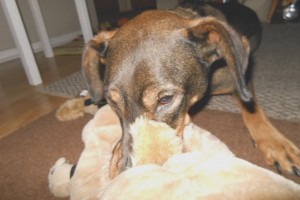 But the howlidays are also a time to think about dogs less fortunate.  And we've got a homeless tripawd at our local shelter!  Mom and I can't take this guy in, as much as we'd like to.  But Mom posted about him in her "Adoptable Wisconsin Tripawds!!!" thread.  Here's the link:
http://tripawds.com/forums/the-tripawd-rescue-forum/adoptable-wisconsin-tripawds/page-2/#p72223
  If you're a Wisconsinite who might ever be looking for an addition to your family keep an eye on that thread.  We'll post about whoever we hear about.  And if you hear about any adoptable Wisconsin tripawds, post about them there too!
Paws crossed for all three-leggers in need in 2012.