July 29th, 2010
Tripawds is a user-supported community. Thank you for your support!
WOW – VACATIONS ARE PAWESOME!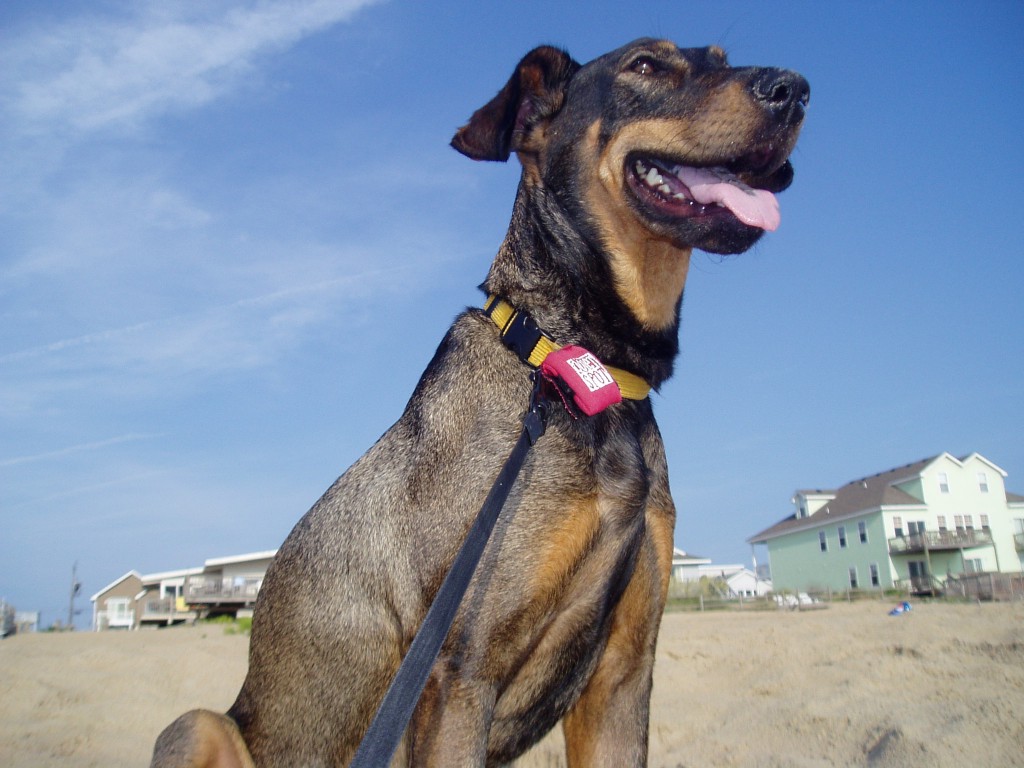 I went to a place called Virginia Beach.  And every morning before the sun got too high, I got to hot along the beach. I looooooove sand and all the smells within!!!
Mom was really worried that she shouldn't take me along for a couple of reasons.  First, because I used to get really nervous when riding in the car.  She wasn't sure if I had gotten over it enough for two long days of driving.  I wasn't sure either, but we brought my bed along and that made it comfy to just lay down and snooze most of the way.  I liked that alot!  You'll see a little bit of me snoozing at the end of our vacation video.  Her second worry was (can you believe she only had two worries?) that the wooden stairs up to the beach house we were staying in would be too slippery and or steep.  It was harder than the stairs I'm used to, but it was fine.  I could manage.  Mom insisted on holding onto my harness handle almost every time.  It was more the heat that slowed me down on the steps than traction or steepness issues.  Sorry, Mom forgot to get me on video doing the stairs.
So, at first, I just thought the Beach smelled pawesome and the sand felt great…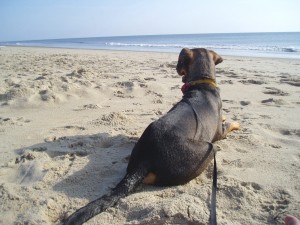 The relatives dug this hole for me!  Didn't they, Mom?  Not really?  Oh well, for whatever reason it was dug, it was a nice, shadier spot after dragging Mom across the beach.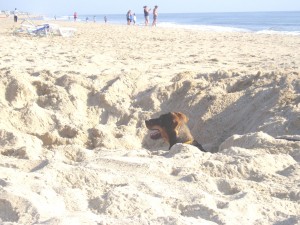 But I can't believe it took me until our last full day at the beach for me to realize the joys of digging for crabs!  (Yes, Mom was very relieved that it took me that long).  And to see that, you must check out our beach video.  Mom decided to try it without music this time.  She's not sure it was a good idea, since she feels it sort of drags at the end as I go from crab hole to crab hole to crab hole to crab hole… well, I don't want to spoil it or it will drag on…
Crab hunting in Virginia is exhausting work –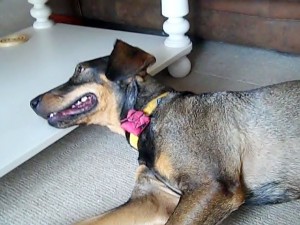 – but it was worth it!!!  Thank dog for air conditioning, right?
Spending time with family was great too.  My human baby cousin was a little confusing though.  He's crawling now and talking a bit now.  He kept calling me "Cece!"  (His dog's name is Gracie and that's what he calls her).  And sometimes he'd crawl over to my leash, pick it up, and hold it up high.  Well, of course, I thought that meant it was time for a walk, so I'd go grab my toy to carry along to show I was ready to go.  Mom said my cousin isn't old enough to walk me though.  Bummer.
Sigh, it's nice to be home with our dog and human roommates again, and to have Internet access again to visit Tripawds and blog, but I wish we had crabs here in Madison, WI – and more relatives.
P.S. Gerry's Mom here!  Just wanted to add a neat encounter with some people staying at the beach house next door.  A woman and her two boys stopped me and Gerry on our way back from the beach to ask if they could pet him.  The mother explained that they were reading a book called The Wooden Mile and they were just past the point in it where the character(s) discover an "island of three legged dogs."  The author had written something to the effect of they walked well, but awkwardly, or something like that and the boys were wondering what that meant.  Well, awkward-looking or not (eye of the beholder, I guess), Gerry showed them how a three legged dog  really moves.  They had not yet learned in the book how this island of three legged dogs came to be.  Anyway, I'm curious now, so I put the book on hold at my local library.  I'll have Gerry do a book report for his blog, heh heh.