February 24th, 2011
Tripawds is a user-supported community. Thank you for your support!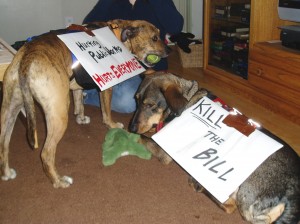 Me and Biggie helped our fellow Wisconsinites show our government what democracy looks like.  Our people have gone pretty much every day, but as good as me and Biggie are in crowds, neither of our persons wanted to push it, so I've only been once and I think Biggie went twice.  Just as well.  Not nearly enough people stopped to pet me.  
The picture above is us getting ready.  My Ruffwear harness came in handy big time for carrying my sign.  A little tape around the handle and ta-da!  And there's more room for it on the missing leg side.  Just a couple tips for any other tripawd protesters out there.
Ok, Mom says now that I've shared my tripawd-relevant tips, that's all we have to say here on the Tripawds blog about the protests in our hometown.  (BUT Mom will be more than happy to chat with anyone about it who wants to.  Feel free to PM her – GerrysMom.  Frankly, I'd be grateful.  I love that she talks to me and all, and this stuff is really important, but come on, less justified outrage and more petting!)