January 17th, 2010
Tripawds is a user-supported community. Thank you for your support!
Hey all,
Yesterday my adoption was made official.  It was exactly one month since my amputation too.  Mom can't believe the couch has been turned around for only one month.  And neither can I!  But we get it back tomorrow!  Today is Couch Day Eve and we're very excited.
I'm trying to convince Mom that every year we need to celebrate my official adoption day, my unofficial adoption day, Couch Day and Couch Day Eve, my ampuversary, the day she brought me home from the shelter, and we need to pick a birthday for me, since we don't know when it is!  She wants me to pick just one or two of those holidays.  Humpf!
Oh, and a couple days ago, I got my very own collar and I.D. tag.  No more hand-me-downs from the shelter or from Yoda!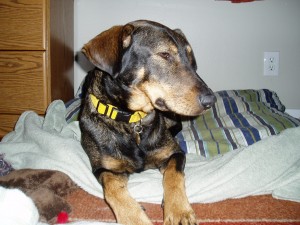 I think Mom made a good choice with the yellow and gold.  I want people to NOTICE me and pet me.
And then tomorrow I get my sutures out and probably get to go to the dog park after.  Whoohoo!  I love it when Mom gets extra day weekends.  Though I'm not sure how I feel about all the car ride practice she wants to do.  Ugh.
Well, I must be off.  It's Walk Time!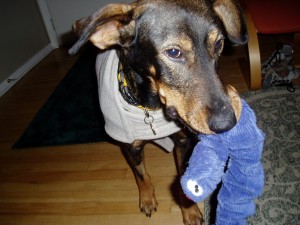 Oh, and Yoda fans, be sure to check out my last blog entry, if you missed it.
Rock on, tripawds!