December 16th, 2009
Tripawds is a user-supported community. Thank you for your support!
Hey everybody!  I know by the time this is published I'll be at the vet's – ick.    As if a car ride isn't bad enough without that to look forward to at the end of it.  I don't see why they couldn't just chop the ol' leg off here!  But whatever.  F.M. will get me there even if I can't help, but resist.
Let's think happier thoughts in the meantime, like what an awesome time I had at the park this past Sunday!  Why didn't F.M. take me there sooner???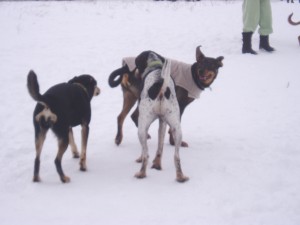 Well, perhaps you can see me toe-touching with my back left leg there – I suppose that's why F.M. didn't take me to the park until our last chance to go before the operation.  I started practicing being three-legged while we were at the park and continued now and then since.  F.M. had mixed feelings about that – sorry that she had let me run enough to hurt more, but also a little glad for confirmation that I really do need the amputation – this knee isn't going to get any better!
I packed in a lot of play time into that short visit and made a lot of friends.
Alas between my knee and the cold, we only went around once.  Like my coat?  It was big brother Yoda's.  Can you see the family resemblance now below?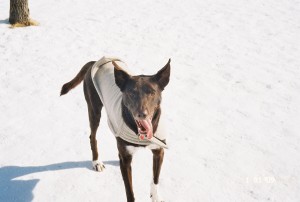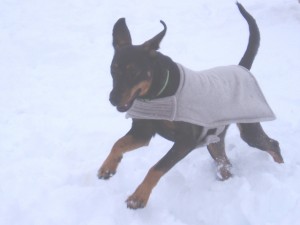 We're like twins!  Haha, okay not really.
I like how the cold keeps scents fresh.  Like the smell of little hibernating animals – long after they've moved on.  I got fooled the other day and pounced on a snow dune.  No tasty rodents inside, but I made a nice snow angel.
I like my coat okay for keeping me warm, but it can be a nuisance to take on and off, so sometimes if F.M. takes too long getting her own coat off or whatever, I go about my regular routine, rather than waiting around.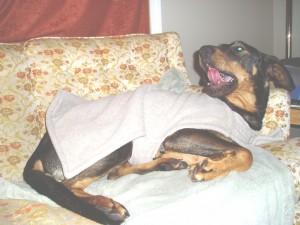 Ahhh, I'm going to miss that couch for the next couple weeks, sigh.