December 18th, 2009
Tripawds is a user-supported community. Thank you for your support!
Just wanted to let you all know I made it home from the vet today as expected.   Hooooorrrrrray!!!!
I didn't get into too much trouble at the vet's, (at least that's what we're telling F.M.) but I did manage to chew through my collar. What can I say?  I wanted a new one, not the hand-me-down from the shelter.  But I am sorry that the vet had to lend us one of their leashes that loop around the neck – mostly because it's not as comfortable.
Getting around on three paws is a breeze.  But surgery makes me sleepy.  I ate lots as soon as I got home and we've been napping off and on since.  (Yeah, that is a picture from today.  I"m laying on my incision side).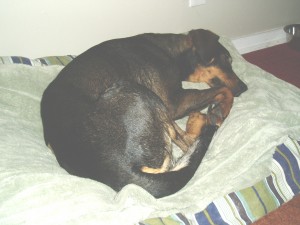 F.M. redecorated for me, she says, but why would she think I would want the couch turned around?  I have no idea.  No one can get on it now!  And all the rugs she put down are nice, but what for?   I think being alone for two days messed with her head, but I'm not going to mention it.  I just wag my tail like I don't notice her odd behavior.
Alright, some of you want to see the incision right?  Maybe those of you who are pawrents of a tripawd-to-be.  I have no bandage, so you're gonna get a clear look, brace yourself: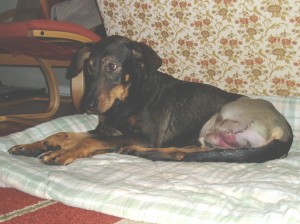 Oh, that didn't come out as big as I thought I would.  You can see the stitches, but the staples are probably too small to see.
That look on my face has nothing to do with my missing leg or any physical pain – it's that darn camera and it's flash.  Ugh.  I know it's for a good cause, but no more pictures today!  I'm supposed to be getting spoiled, right?  Well, that is my first request for how F.M. can spoil me during my recovery.  She can use that old camcorder thing instead, if she has to, and retro-post it when she gets the footage converted.
Thanks for all your prayers and well wishes!