September 4th, 2010
Tripawds is a user-supported community. Thank you for your support!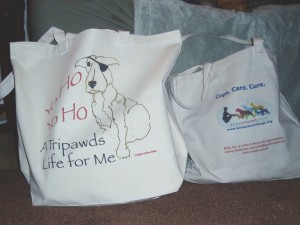 You should have seen how excited Mom was to get our Jackers Gear, ordered in honor of the passing of Captain Jack, 14+ month cancer survivor – what a guy!  I thought there must have been a beef trachea in that package or something, the way she was acting – alas, no.  But it did have a long-sleeve shirt and tote bag for mom, and a couch pillow for me and my roommate Biggie to share, all with this really neat picture of Captain Jack, created by his mom for Tripawds to use in their store.
Mom was impressed with her new tote bag.  She uses it to carry her work stuff in.  She's been saying she needed a bigger one for a long time.  Even though she couldn't tell if this Tripawds bag would be bigger or not, she couldn't resist the Captain Jack bag.  And look!  It's huge!!!  No offense to Bone Cancer Dogs, (especially since members gave Mom a free one when she crashed their reunion in Madison last October) but the Tripawds bag is waaaaay bigger. (See pic above).
I like the new pillow too, but wanted to make sure you all got a good view of it in Mom's picture, so I pulled my head down under it (see below).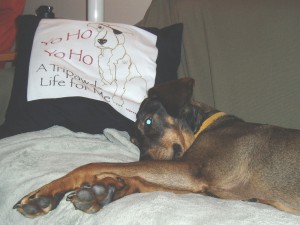 My roommate Biggie didn't quite get the idea -but you can tell he loves the new pillow too.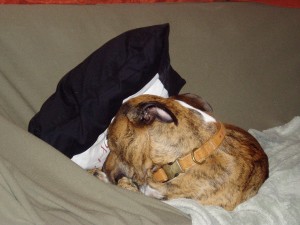 You alllllllll want to check out the Tripawds store now, don't you???